Prefabricated-running-track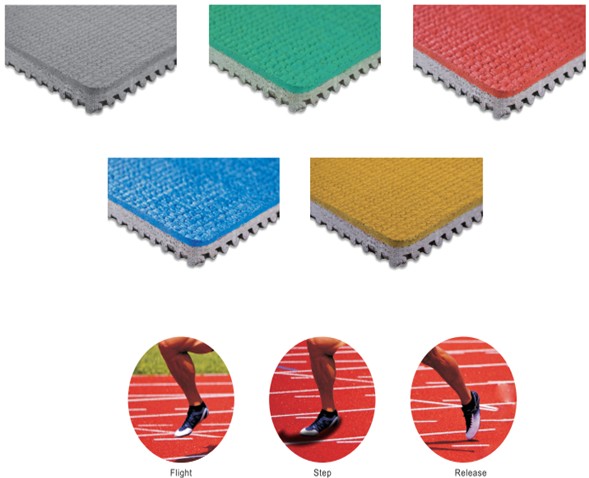 prefabricated track is a prefabricated rollsheet specially designed for competitive athletic performance. For competitive performancethe track surfaces are made of natural and synthetic rubbers of pressing process for synchronized shaping emboss and vulca
We're here to help Easy ways to get the answers you need.
Contact Us
Details
Prefabricated track systems are designed for all levels of training and competition at high intensity use facilities and they are the preferred track surface for wheelchair athletes and is extensively used at Major Track & Field Championships (a prefabricated track surface was used at the London 2012 Olympic and Paralympic Games). Whilst they are more expensive to install than other track systems they tend to be much harder wearing and require less maintenance and remedial repairs.
Unlike porous, solid and sandwich systems which are all laid "in-situ", prefabricated surfaces are sections of rubber matting manufactured in a controlled factory environment which helps to ensure even thickness and controlled performance characteristics. There are two main types of construction: solid sheets and sheets with a voided backing that improves shock absorption.

The mat is adhered to a base macadam to provide a non-porous system. Like solid and sandwich systems this type of surface is also impermeable to water and relies on crossfall to slot drains to keep the running surface free of surface water. This method of track construction produces excellent finish levels to exacting standards and is recognised as a elite level surface suitable for international athletics events.

Prefabricated tracks tend to be more long lasting and have lower maintenance costs than polymeric surfaces and retain their performance characteristics throughout the life of the material. There are also environmental benefits in that prefabricated systems can be removed and recycled.
IAAF Test Results

Test item
Tensile stength

Mpa

Reference

IAAF

Standard
≥0.5

Test data
0.73

Judge
≥0.7Mpa

Elongation at break

%

IAAF

≥40

134.0

≥200%

Force Retardance

%

IAAF

35-50

40.4

≥49BPN20"C

Vertical deformation

1m

IAAF

0.6-2.5

1.61

1.2min

Skid resistance

BPN20'C

IAAF

≥47

47

0.18mm

Flame Retardance

GB/T14833-2011

UV531
High performance Olympic standard system designed to meet the highest standards of international competition
More expensive than porous, sandwich and solid track systems
Highly durable and able to withstand heavy usage
Maintenance friendly: No resurfacing or re-coating required
Non slip, easy to manoeuvre wheelchairs and walkers
Environmentally friendly and recyclable
Less inclined to develop moss as water runs off and spores can't establish themselves as easily
Professional clean every 3years
Resurface 10-15years dependent on use. Note: May need minor repairs to areas of heavy
wear during this period