EPDM rubber Granules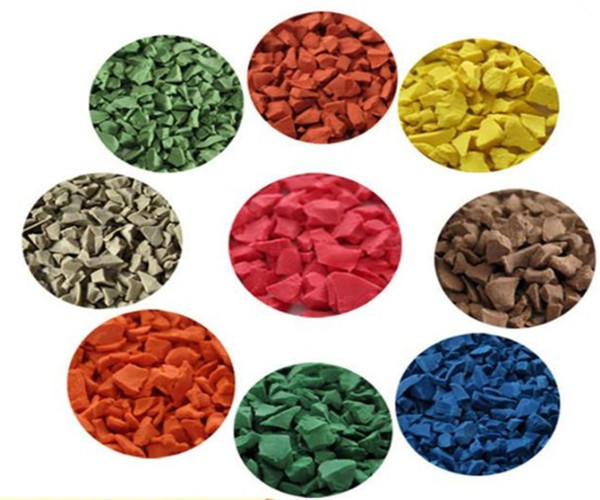 epdm floor mat epdm flooring epdm granule epdm granule binder epdm granule floor epdm granule for rubber flooring epdm granule price epdm granule rubber price epdm granules for kids playground surface epdm granules for swimming pool surfaces
We're here to help Easy ways to get the answers you need.
Contact Us
Details
EPDM granules are primary made by raw EPDM polymers ,rubber softening oils,calcium carbonates and pigments. Our raw EPDM polymers are imported mainly which ensure the high quality .Then prominent features are EPDM polymers sufficient ;light grabity ;strong anti-UV; incorrodible ;color resistant; extreme resilience; strong bonding; abrasion resistant and anti-slip ;color bright ;easy maintenance ;all weather used.
Item Name: epdm coloured rubber granule
EPDM content: 16% ~35%, it is as our customers requirements
Available Size: 0.5-1mm.1-2mm.2-3mm.1-3mm.1-4mm.2-5mm etc.
Color:most colors can be made for our clients.

Advantage:
1.Resistance to color changes.
2.Non-affected by the weather.
3. It has high elasticity, shock-proof and shock absorption.
4.Good abrasive resistance and durability.
5. Save and anti-skidding.
6. Various colors. Can be made according to customer requirements.
Application area:
Colored EPDM rubber granules are not only used for ground facilities of sports field, and also widely adopted in other areas for a long time. With permanent elasticity, color change resistance, skid resistance and weather-ability, color EPDM granules provides a high level of safety and security for sports and recreational activities. It can use for all play ground ,running track ,park area,ect .